This is a fast, multiplayer tetris of pure awesome.
Please note that to host an internet game you have to open port 12555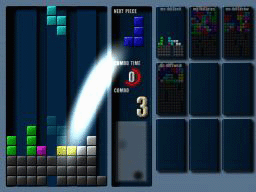 Click on the Image to download the game
Requires a very new version of Java (this is a link to Sun's website. Link may break with time, will always have newest version) as well as your latest video card drivers.
There's also a linux version which you can download here. I didn't have good luck in getting the linux version working, but you may have better luck.